Who says you can't get a serving of vegetables at the café? Today, we explore a surprising guest to the coffee world: beet.
BY EMILY JOY MENESES
BARISTA MAGAZINE ONLINE
Featured photo by congerdesign via Pixabay
Florals, fruits, and herbs are natural additions to café beverages—but what about vegetables? Today, we're exploring a surprising ingredient that's beginning to grace coffeehouse menus: beet. Visually stunning, packed with health benefits, and versatile in flavor, the beet is making a bright and refreshing appearance in many cafés.
Read on to learn all about this autumn vegetable and how the specialty-coffee world is embracing the beet.
Growing Beets
The beet, scientifically known as Beta vulgaris, is a nutritious and versatile vegetable grown in a variety of climates and regions. The plant prefers loose, well-draining soil. Beet seeds are usually sown in early spring or late summer, as the vegetable thrives in cold weather.
Growing the plants requires about 6-8 hours of sunlight per day. They're typically harvested when the beet roots reach about 2-3 inches in diameter. The leaves, also known as beet greens, are also edible.
Health Benefits
Beets offer an impressive array of health benefits. Packed with essential nutrients, they're a rich source of dietary fiber, folate, manganese, potassium, and vitamin C. Their deep red color comes from a powerful antioxidant called betalain, which is known for its anti-inflammatory and detoxifying properties.
Consuming beets also helps lower blood pressure and enhance blood flow, improving cardiovascular health. The nitrates in beets are converted into nitric oxide in the body, which can dilate blood vessels, in turn improving oxygen and nutrient delivery. Additionally, beets have been shown to support brain health, as they contain natural nitrates that can enhance cognitive function.
Beets in the Café
We were first introduced to beetroot lattes by Portland, Ore.'s Less & More, which offers a beetroot latte, made with beetroot powder as well as other health-boosting ingredients like ginger, cinnamon, and clove. While the beverage doesn't contain coffee, it's a delicious and healthful option for anyone looking for a caffeine-free beverage. Bluestone Lane also shares their recipe for a beetroot latte, finishing theirs with a light dusting of cocoa powder. With summer in full swing, iced beet beverages are a natural go-to.
Give Them a Try
Beets make an exciting and health-forward addition to the specialty-coffee world, making delicious and visually beautiful drinks perfect for coffee lovers and caffeine-free customers alike. As more café owners explore incorporating vegetables into their beverages, it's evident that these healthful ingredients are poised to become a mainstay in the café scene.
ABOUT THE AUTHOR
Emily Joy Meneses (she/they) is a writer and musician based in Los Angeles. Her hobbies include foraging, cortados, vintage synths, and connecting with her Filipino roots through music, art, food, and beverage.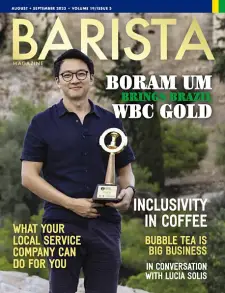 READ THE LATEST BARISTA MAGAZINE
Out now: It's the August + September 2023 issue of Barista Magazine, featuring Boram Um of Brazil on the cover. Read it for free with our digital edition. Get your Barista Magazine delivered; start a subscription today! Visit our online store to renew your subscription or order back issues.